WHMIS 2015 REFRESHER ONLINE TRAINING COURSE
Ontario Environmental & Safety Network Ltd.
WHMIS 2015/GHS REFRESHER ONLINE TRAINING
PRICE: $19.95 CDN                                          PASSING MARK: 75%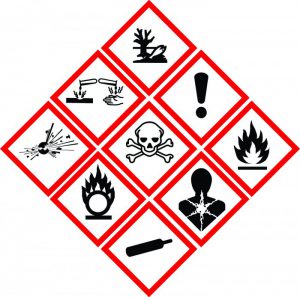 DURATION: approximately 45 minutes      CERTIFICATE ISSUED: Yes
ORDER NOW 
WHMIS 2015/GHS REFRESHER
ONLINE COURSE OVERVIEW
This course serves as refresher training for workers who have already taken WHMIS 2015/GHS training and is not a substitute for the full 2-hour WHMIS 2015 course. The Ontario WHMIS Regulation applies to all workplaces covered by the Occupational Health and Safety Act. Any employer or constructor who uses WHMIS controlled products is required to comply with the WHMIS Regulation regarding the requirements for labels, material safety data sheets and worker education and training. Ontario has amended the OHSA and the WHMIS Regulation to adopt new international standards that are part of the Globally Harmonized System of Classification and Labelling of Chemicals (GHS).  There is a transitional period – until December 1, 2018 – to phase out old requirements.  During the transition, both the old and new requirements are in effect.
By implementing the Globally Harmonized System of Classification and Labeling of Chemicals (GHS) standard for hazard classification and communication, this WHMIS 2015 Refresher course aims to prevent workplace injuries, diseases, and deaths resulting from the storage and use of hazardous products. By the end of this course, you will have the knowledge and understanding necessary to answer the following questions:
What hazardous products could I be exposed to?
Where do I find information about the hazards of these products?
How do I protect myself?
What should I do if an incident occurs?
WHMIS 2015 REFRESHER ONLINE COURSE TOPICS:
Physical and health hazards
Precautionary measures to protect your health and safety
How to choose appropriate personal protective equipment
WHMIS 2015 hazard classifications
Hazard and safety information found on WHMIS 2015 labels
WHMIS 2015 symbols and pictograms
Information contained on safety data sheets
Worker rights and employer responsibilities under WHMIS 2015
The importance of education and training
WHMIS 2015 REFRESHER ONLINE ASSESSMENT: Testing conducted throughout this online WHMIS 2015 Refresher course is designed to reinforce the information presented. A mark of 75% must be achieved in order to receive a certificate of completion. Participants are able to repeat the course two times if the pass mark is not achieved on the first attempt. Print materials for this course can be accessed online.
WHMIS 2015 REFRESHER ONLINE CERTIFICATE OF COMPLETION: Upon successful completion of this online course, a certificate of completion will be available to download and print.
UNIVERSALLY COMPATIBLE
This course was created using standards that will allow playback on most Internet-capable devices with standard web browsing capabilities including Apple's iTouch, iPad, and iPhone, as well as most other smart phones and tablets including those with Android and Windows operating systems.
Ontario Environmental & Safety Network
Delivering excellence in Industrial Hygiene and Environmental Consulting Services